5 advantages of a PIM
EKR Orchestra improves product data management, customer experience, time efficiency, data and process integration and guarantees savings
PIM is the acronym for Product Information Management.
It is a software that allows to manage all information relating to products (both marketing and technical data) in a centralized and complete way .
Until now you have probably always managed data of this kind with dozens of folders on your hard disk and with an infinity of Excel sheets .
There is actually a simpler and more effective way to manage all this.
A modern PIM allows you to optimize time, resources and even money, managing all these contents in a digital and centralized way, in a single software for all departments of your company.
5 advantages of a PIM / CCMS
Good management of product information becomes essential due to the frenetic dynamism of the business environment.
Regardless of your industry, data management using PIM software will give you a sure advantage over your competitors .
Here are the 5 main advantages of owning such a system:
Improve product data management: with the growth of the company, the offer of new products will certainly increase and with this the difficulty in keeping track of all product information will increase. This leads to disorganization, which in turn affects the customer's final experience.
Improves the customer experience: the PIM solution allows you to organize and therefore have more correct and updated information, to the benefit of customers. All this consequently leads to a reduction in requests for returns or product complaints. Finally, a PIM allows to reduce the time-to-market by making the publication of all informative materials for customers and sales force much faster.
Guarantees cost savings: the implementation of a good Product Information Management system reduces operating and supply chain costs. More accurate information, reduction of management risk and reduction of the cost of incorrect product data.
Increases time efficiency: the software reduces the work of manual and constant data entry, simplifying the search for products and updating information. As a direct consequence, employees have more time to solve other issues, making the business process more efficient and optimizing time and resources.
It offers greater integration: compared to a traditional management software, the PIM has a unique flexibility, which allows you to customize and better manage your processes and your data even across different areas. This flexibility will in turn make it possible to reduce management costs and significantly improve communication between different departments (marketing and technical department).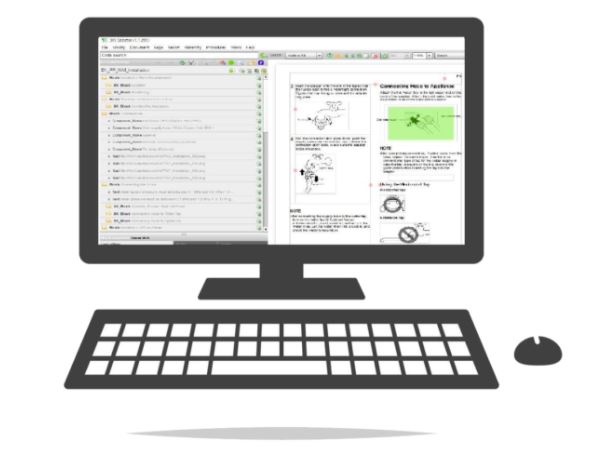 In fact, a Product Information Management solution makes this process simpler, more automatic and more precise than manual compilation.
Bonus: What Makes a PIM Really Effective?
It is certainly a more productive method than manual management, but not as precise as …
a PIM that takes into consideration an unconventional data management, in which information is managed in blocks, in text or number chunks which can then be managed and organized at will.
Not just paragraphs and sentences, but every single element of the content can thus be effectively modified.
This is what makes EKR Orchestra® different.
Maximum precision given by the most advanced and meticulous organization of source data, to check every single element and not lose anything along the way.
What are you waiting for? Contact us for more information!