Complete your PLM with a PIM
PIM is complementary to PLM; adds to the data managed by the second all the product information to be communicated externally: sales or use information.
As the company grows, the offer of its products also increases.
Some new products are created, others are redesigned, others are canceled from production.
There is therefore a constant increase of information relating to the product .
PLM: a software that allows you to manage the life cycle of a product
Today, the management of large volumes of information passes through the use of software that are designed and built in such a way as to simplify the activity for those dealing with this amount of information.
One of these is the PLM (Product Lifecycle Management), a system that allows manufacturing companies to manage, control and integrate the data and documents that refer to the development and realization of a product from start to finish. end of its life cycle.
It is a software that integrates with other software such as ERP and CAD, PDM, SRM, SCM.
The PLM is therefore important and irreplaceable in a modern company, as it manages the entire product life cycle from concept to design, and from design to manufacturing, including after-sales, warranty and disposal.
So why should I care about PIM?
We have therefore defined the main features of a PLM, but there is also another advanced solution for product information management: PIM (Product Information Management), which is complementary to PLM. 
The difference is in fact linked to the fact that the PIM adds to the data managed by the PLM all the information that must be processed to communicate the product externally, such as those used to sell it (catalogs, brochures, data sheets, website) or those equally important to use the product correctly (user manuals, installation manuals, warnings, with respect to regulations, troubleshooting, etc.) that do not find space in the PLM.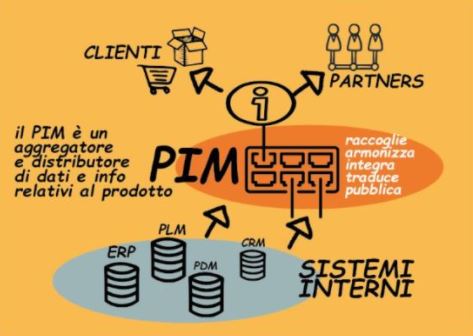 Why integrate a PIM to your PLM?
As you can see, the use of software such as PLM is limited only to a certain category of product information, mainly referring to the design and development phase, as well as the construction of the product.
If your company currently only uses a PLM, complete it with a PIM.
In fact, it is a solution that allows you to simplify processes, allowing you to enhance the possibilities of communicating the product by optimizing times and creating efficiency.
With a PIM you can in fact benefit from several advantages such as:
A integrated and effective management of the information present in the company (often inaccessible and updated)
Reduction of management costs and savings in translations

coherence and unambiguity of the contents (often the source of misunderstandings or even criminal cases)

Easy expansion of the product range
Strong flexibility that allows you to customize messages according to the recipient or the media
Companies that create products face greater challenges today than in the past. To ensure growth, companies must sell faster, with fewer resources, more regulations, in an increasingly global and competitive market.
Thanks to EKR Orchestra® , the method based on its modern PIM / CCMS designed in EKR, you will be able to transform information management into a strategic asset.
What are you waiting for? Contact us for more information!