The globalization of markets with Ekr
Globalization brings with it significant challenges, such as the need to translate texts. EKR Orchestra allows you to manage this process quickly and accurately.
Maybe your business is growing, expanding its business into new markets.
You may be prepared for the new challenges that come your way, but language barriers could be an obstacle.
You will have to translate a large amount of materials: catalogs, technical data sheets, web pages, brochures, user and maintenance manuals. Perhaps it will be necessary to locate the interfaces of the displays of the machines as well.
You will have to rely on translators, facing non-negligible costs.
A real headache!
How to optimize this activity avoiding waste and capitalizing on efforts?
At this point it is useful to understand how a translation agency works.
Translators rely on "CAT tools" (Computer-Assisted Translation). They are key tools that do not do translations, but help translators to be faster, more accurate and more efficient, suggesting already used translations and possible translation variants.
It is very likely that you will contact a translation agency providing them with documents already paginated in Word or Indesign.
Once your document has been acquired, the agency will extract every single sentence contained therein, and relying on CAT tools, it will translate every single sentence. Then he will reintroduce the translated sentences in a document similar to the original one, but now translated.
The flow is totally different if you have a PIM (Product Information Management)
Let's imagine for a moment that our basic language document (catalog, technical data sheet, price list or manual) is like a device, a machine.
The machine is made up of pieces (components).

The pieces are made by various suppliers.

The pieces arrive from the suppliers in the warehouse and are coded and stored according to a certain logic, so that they can be perfectly identified and found.

Based on a project (a bill of materials), the pieces (components) are assembled to produce the artifact.

Some components are common to many artifacts, think of screws and bolts or handles and switches, but they are assembled differently depending on the BOM.
Now let's go back to the document you need to translate
The document is also made up of pieces: the title, the subtitle, the paragraph, the table, the drawing, the note. Pieces that could be picked up from a structured warehouse in which these have been deposited, coded and maintained by those who generated them.
A logical, intuitive process. But how to do it?
Technology comes to us by car.
The technological base is called PIM (Product Information Management), a sort of information management system that allows us to organize and store all information, to manage and keep it.
Managing and maintaining information means:
assign a label that gives them meaning

make sure that there are no redundancies

keep track of all the steps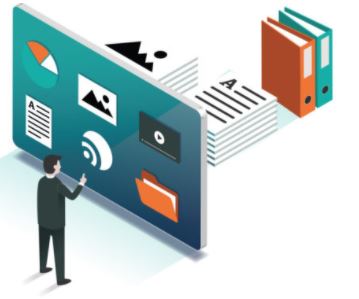 Let's go back to the document to be translated
If our document or any flat agglomeration of pieces (sentences, data, images) as happens in a Word or Indesign file, were instead an aggregate (grouping) of coded pieces, we could extract each single sentence with its own identification code (label ).
It will then be the software itself, part of the PIM suite, to take care of:
extraction of all text strings present in the document to be translated

elimination of redundancies (phrases that occur several times)

elimination of phrases that are already present in the DB "translation memories" and therefore do not need to be translated

preparation of an Excel file with the missing sentences, ready for the translator.
Here is an example with columns prepared for translation into English, Chinese, Arabic.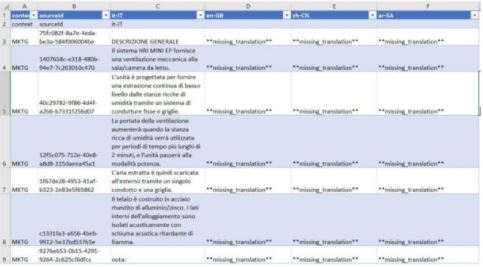 When the translator has translated the sentences into the desired languages ​​as seen in the image below, the software itself will re-aggregate the sentences in the paginated document , for the new language version of the document.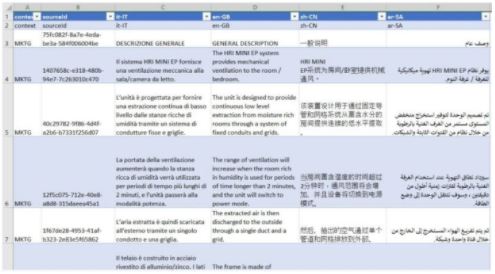 The reintroduction will take place without any risk of error , preserving the graphic characteristics, positions and formatting.
Since the PIM allows the reuse of pieces (sentences / data, etc.) in multiple documents, it is certain that over time we will have less and less need for the services of translators, obtaining significant savings and significantly improving time to market.
If you want to save 60/70% on the cost of translations and open new markets quickly, ask for a visit from an EKR consultant.
What are you waiting for? Contact us for more information!