Management of the E-commerce channel for B2B
In e-commerce, as in international marketplaces, an PIM like EKR Orchestra becomes the control room for managing information, both online and offline.
With the spread of digital platforms and the Internet, as well as the limitation to traditional trade imposed by the Covid-19 emergency, the temptation to sell their products directly to the final consumer has become strong for producers.
The choice to offer products and services, both online and offline, can however generate suspicions among the established partners of traditional channels. In addition to it requires a preventive activity of organization of the Product Info.
Today, about 12% of total B2B sales in the United States are through e-commerce. Forrester predicts that this will already increase to 17% by 2023. They are also pre-stress tests of the Corona virus. The opportunities for companies ready to meet online demand are huge and the risks for those who lag behind are significant.
Consequently, many B2B companies are considering the idea of ​​activating e-commerce sales channels, but are afraid of entering into conflict with traditional channels.
Without a well-planned multichannel strategy, making the choice to expand the sale of your products through these online channels can also result in the loss of physical stores and even your sales teams.
However, if properly planned, you can cater to multiple channels for your business without damaging existing relationships with the usual channels.
There are basically two online sales channels:
With the rapid spread of digital platforms, online selling has become faster and more viable than ever.
SMEs also have access to affordable tools to create their own custom e-commerce site and open up to B2B sales.
However, one of the prerequisites is to have structured information content in order to satisfy the customer's in-depth needs. A customer will never complete a purchase if the information is not clear, unique, sufficient, and translated into his language! Behind a serious e-commerce site there must be a PIM (product information management) that powers it.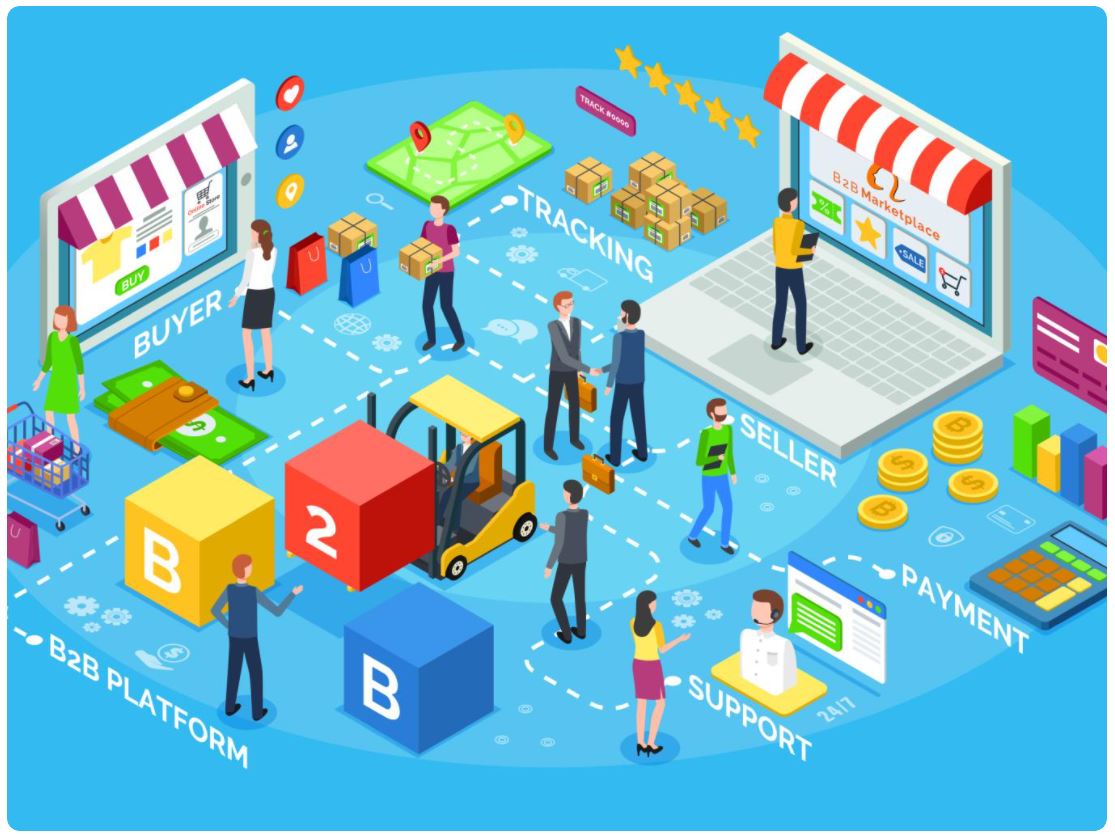 B. Rely on international marketplaces (Amazon, eBay, Alibaba).
Offering products on well-known and widespread marketplaces such as Amazon or eBay, which have a channel dedicated to B2B, is a way by which manufacturers can acquire previously untapped customers, including those in foreign markets, even distant ones, which they would not have never could reach before. Also in this case it is necessary to prepare a Knowledge Base that can feed the databases of marketplaces with speed, reactivity and completeness. If your catalog is made up of 1000 or more SKUs, it is unthinkable that you do it by hand responding to all the portal requirements.
The introduction of a new channel, as we said, can bring out the threat of being bypassed in traditional partners.
The most common factors to keep under control are these:
1. Prices not applied properly.
Failure to maintain pricing consistency across all channels results in channel conflicts and confusion for end users. For example, if the manufacturer's website sells products at significantly lower prices than those offered in retail stores, the brand's sales in retail stores will plummet.
Among other things, people who had already purchased your products previously may feel scammed and pissed at seeing prices lower than those they paid.
2. Keep partners out of the loop.
Once you have made the decision to expand your brand into new channels, keeping it secret from the existing network of distributors and resellers could lead to a bad reputation of the company and dissatisfied customers.
Regardless of whether the new channel is considered a direct competitor or not, your existing partners will find out and be concerned about how their channel will be affected.
The best thing is to involve them in the most appropriate ways. For example, by offering them, on the same e-commerce platform, a privileged channel with special discounts and conditions. Or – after having uploaded the products and related data sheets on the marketplaces – offer them the opportunity to propose their price in free competition.
It is important to note the reaction and feedback from current distributors, resellers and resellers.
3. Ignore the customer's convenience needs.
However, it is equally important to take into account the changes in your customers' shopping habits. The way consumers shop is becoming increasingly diverse.
Not offering both online and offline options to the customer, to get the products they want to buy, could complicate the purchase path and lose opportunities for your company.
Let's think about what happened in the months of lockdown due to the Covid-19 virus.
Ignoring customer needs for inadequacy opens the door to other competitors who can better meet customer needs.
To grow, manufacturers need to consider all the different options available to them, to deliver their products to consumers.
If brands don't focus on providing a better customer experience, they risk being trapped with channels that, for example, are irrelevant to the latest generation of shoppers, millennials, who simply prefer online.
4. Don't be prepared to talk to your customers on their favorite channel.
Behind each of the paths that you can favor to dialogue and satisfy customers in the customer experience, there is a fundamental change that must take place within your company.
To be able to feed each channel in the best way with consistency and full control you need to organize all the information related to your products in a way that makes it easy / automatic / fast, find and populate all channels and in all languages.
The tool to do this is PIM (Product Information Management). The PIM is your control room to govern the information delivery channels, both on-line and off-line.
What are you waiting for? Contact us for more information!