Portal
Web Portal is the place to access all aggregate information on the needs of each user. Every customer, every business area can thus find the information they need.
In the EKR Orchestra platform there are various Portal aspects, an innovative part that becomes a reference point for customers in searching for product information
EKR orchestra has a unique heart and language for the various modules: it thus allows to respond precisely to the needs of multiple applications, ensuring a perfect application of even very different needs.
Very often companies insert various tools that are perhaps excellent for individual peculiarities, but difficult to integrate with each other because they are developed according to different logics, which struggle to be shared in integration processes between different systems.
The great effort of integration and homogeneity that the EKR PIM has made over the years has made it possible to create a platform that can respond to the needs that small, medium and large companies encounter in the management of product information at every stage of internal and external processes on three levels: creation, research and dissemination.
The EKR Orchestra platform is constantly evolving and the various aspects Portal PIM CMS DMS DAM and PXM are present within it with different levels of maturity.
The most stable and consolidated area is that relating to static publication technology (relating to cataloging, manuals, technical documentation, marketing documentation, etc.) in which EKR now boasts 12 years of experience.
The most innovative part, on the other hand, is undoubtedly that of the Portal which is becoming for many customers the only point of reference in which to search for, and above all find, efficiently and effectively, all product information. The various entities – from the Technical Office to Software Development, from Mechanical Development to technical documentation, training and After-sales – can access them by carrying out the research each in a different way according to their needs.
The EKR Orchestra portal is structurally flexible based on WordPress presentation technology and can count on the persistence of information given by EKR's Information Warehouse.
EKR's document management allows for a hybrid scenario; thanks to Elastic Search technology, it is possible to integrate structured information up to a certain level with purely documentary information in which it is sufficient to have a full text approach, but detailed in a precise information field.
For example, I can request details up to the maximum level of the technical data of a product, but also perform a search on the same in full text mode on a report, produced by a third party technician, which is managed as a combined document.
EKR's approach to Digital Asset Management (DAM) starts from a rigorous and structured management of the underlying information, up to the asset.
This is a approach that is radically different from the typical DAM approach in which the asset is the center of information and is typically enriched by more or less complex metadata.
EKR's DMA is based on the concept that information, the concepts described within the Information Warehouse, can be enriched by static assets – images, PDFs – or more dynamic, such as videos and other contributions.
The transversal search of the assets present within the EKR platform is guaranteed by the Elastic Search engine, which allows you to search across any file that in some way has been related to the structural concepts of the Knowledge Base.
The management of the customer experience in relation to the product is inherent in the flexibility of the EKR platform and in the pervasiveness of its presence within the company.
The customer can access product information through various contact points and these are often managed by various roles in the company.
The customer journey can start from word of mouth and the customer can get product information from a website page, from a manual, through a paper data sheet seen at the fair or received via newsletter. However, it can also come into contact with product information in an After-sales phase by reading the technical document, Human Machine Interaction (HMI) tools in interacting with the machinery displays. Finally, he can receive information about the product when he contacts the customer service where the data is enriched by the experience of the technicians.
Covering the complete application scenario therefore requires an extremely flexible structure, able to dialogue in a uniform way with entities characterized by very different business objectives.
This is one of the most important features of the EKR platform.
The information that accompanies every single machine, from sales to service, passing through design, production and all the rest, are available to all those who need it, each with regard to his skills
We always think by customer / order / freshman
I imagine a structured "corporate google", in the sense that it has the ability to search by filtering by customer / order / serial number any type of data relating to the machine / group / functionality / component.
We are focused on the importance of sharing information internally, rather than to customers.
The management system is an absolute reference point, but it does not contain any kind of information
The entire supply flow is managed by management, with delivery dates, non-conformities, … .. (there are only some types of items considered critical that I want to keep under control).
All the technical specifications are in the management system. While commercial offers are made with commercial bills, unrelated to techniques (a link that instead we would like to implement). For now there is no commercial configurator.
An example of a result to be obtained: a salesperson is making an offer and the customer asks for customization, we must be able to know if that component has already been built and in which type of machine, with all the necessary warnings.
If the sale is successful, all interested people must have the information (technical office, purchasing, production, ….)
A typical business scenario
Product information is an asset that is sometimes not properly managed and valued.
Product information is always the subject of 3 different activities.
CREATION

RESEARCH

DISTRIBUTION
The 3 classes of actors represent
Who creates information

Who looks for them

Who distributes them
In the enterprise, many organizations use product data to produce numerous outputs.
When the product information has been correctly classified and organized in EKR, the purpose of PIM PORTAL is to allow all company functions to search and find the answers to specific needs.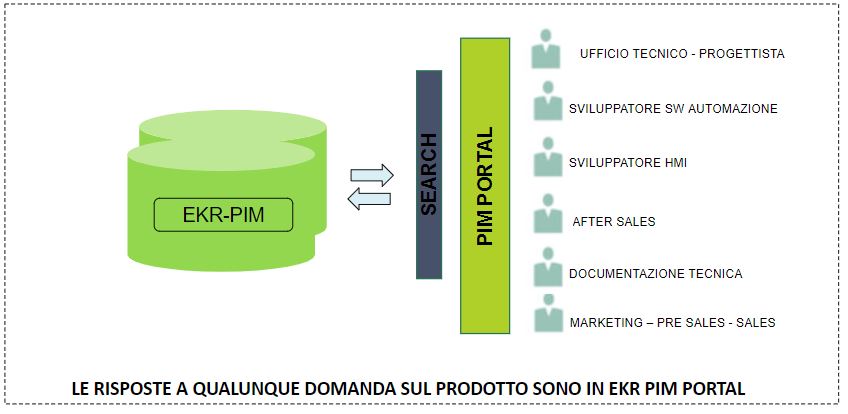 Some examples of product information
Functional breakdown of the machine

Names of machine parts / assemblies / components

description of mechanical parts and relationships

Technical data / technical specifications

Maintenance data

Standard and special machine configurations

Glossary

Automation / message strings

HMI software application strings

Navigation masts of the SW

Names of procedures and processes

Technical specification names

Descriptive characteristics / information for choice

Troubleshooting / troubleshooting

Procedures / steps

References to consumables and spare parts

Images / drawings / videos

Competitor information

assembly tables

assembly phases
How do you manage content now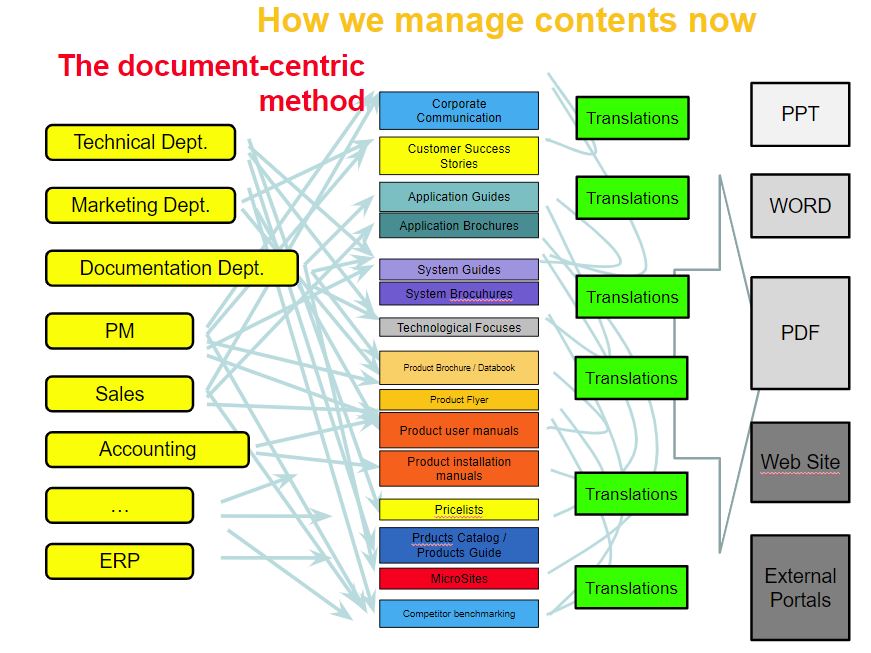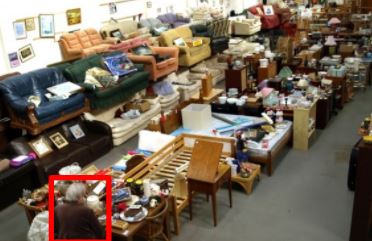 How can you manage content in the future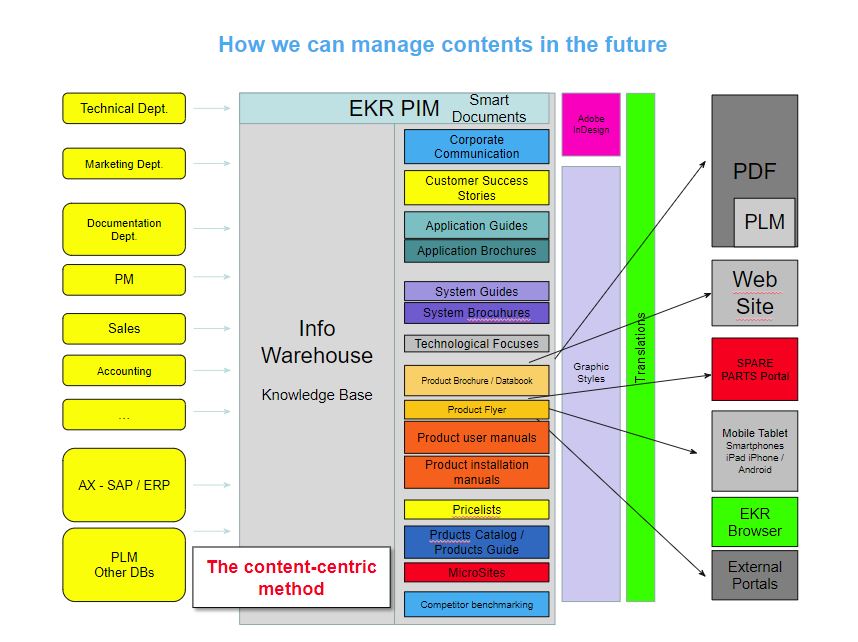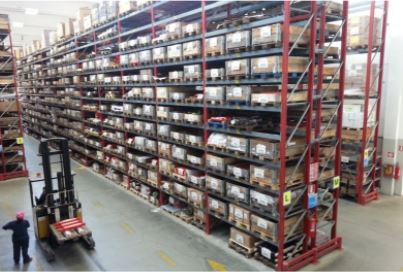 What are you waiting for? Ask for a demo today!