EKR for the HVAC&R industry
The documentation that characterizes it is very technical and specific and therefore of complex implementation. EKR Orchestra supports the process in a flexible way
This sector has a unique feature: in order to document the products it is necessary to provide a very vast set of documents that are increasingly technical and specific. Almost all companies produce a product guide – a catalog that shows the entire offering and most of the pieces are highly modular (the sizes vary, they have characteristics common to a single model, but the technical data vary depending on the size). A complete set of products will then be shown with little information on the individual elements; this is used for a first choice of high level: the heating engineer, the architect, will use the product guide to start getting an idea of ​​what a given company actually produces and whether it is the system suitable for their design needs. Then there is the Technical Data Sheet, the technical document, which for each individual model describes all the characteristics necessary to make the design choice (ground positioning plan, socket, sizing, mechanical, electrical and aeraulic characteristics, etc.) Each document requires a few tens of pages, sometimes even hundreds, to describe all the characteristics that allow the decision maker to make the best decision. In the after-sales area, there is also the user manual documentation, the Use and Maintenance Manual, or the one intended for the installer. Other communication needs for this sector are then linked to the guides for application in industrial, hospital, domestic, etc., or the system guides that explain how to aggregate products of different types in unique systems.
Each Product, System or Business Solution needs numerous information and combinations of them, to feed correct communication in the different phases of the Customer Journey
The growing adoption of efficient PLM (Product Lifecycle Management) systems has contributed to the improvement of information management for the design and correct reading of the various needs in the product life cycle. Despite this, many Technical and Research and Development Offices declare that a significant part of their time is still dedicated to the "research" of information and their "internal communication" to other company departments. PLM, in this field of research and communication of information to internal corporate bodies, has certainly brought greater systematicity, especially with the departments that feed the active cycle, such as: administration, production and the purchasing department. Instead, it has produced few improvements to the interface with Marketing, which in fact, to feed the technical documentation, the commercial one and the websites, still today, receives a good part of information via e-mail and with basic applications of editing and spreadsheets.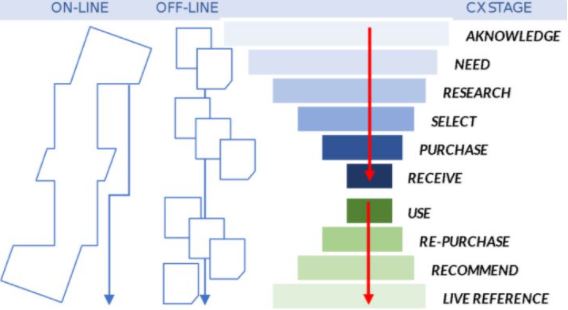 THE "JOURNEY" OF THE CUSTOMER IN CHOOSING THE PRODUCT
Today, an enormous communication effort is required for each phase of the research, conquest and maintenance of customers, which requires highly integrated and updated communication means and tools both on-line and off-line. Manage and update product information assets, both on-line and off-line with the usual content production chain: Technical Department> Product Marketing> Graphic Agency, may no longer be enough , since the costs and especially the time required, impose rhythms that are sometimes not in line with the needs of "real-time" and "cross-media coherence", which are increasingly vital. Furthermore, the need for updating and synchronization between the various media impose a "single source of truth" logic impossible to obtain without a CMS + PIM digital infrastructure for managing single data and / or basic information, photography and quant 'other.
A company spends on average 20% of its time researching and distributing information.
A lot of time is spent searching for information created by colleagues and responding to requests from other company departments that need information on what the technical department has done (or could do). From experience with hundreds of small, medium or large businesses, on average, each person who deals with:
Thermodynamic, mechanical, electrical and electronic design;
Bill of Materials and Product Lifecycle Management;
Product, system and specialized application marketing
spends an average of 5 to 20% of his time searching for and providing information on products.
Spreadsheets and editing software, from extraordinary tools to process information, if used as a means of transmission and storage, can become a huge problem.
The distribution of product information is first a process and then a technological problem. Process regarding how information is "created and collected", how it is "organized and stored" and how much effort we make in doing these operations. Especially in the phases of use of them by the various bodies involved in their preparation for disclosure, it is not even clear with traditional means who is responsible for generating the data and perhaps its validation.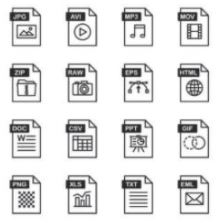 Then there is a technological problem because even technology must have essential elements, first of all the flexibility to allow us to create (without constraints) what we need to create to cover the entire Customer Journey (for example: product guides, product sheets, commercial brochures , technical bulletins, installation, use and maintenance manuals, service manuals, price lists, exploded parts, product area of ​​the site, mini-sites for launching new products, landing pages, etc.).
With an "all in one" CMS & PIM system, the quality of on-line and off-line documents increases and 80% of time is saved, with return on investment in 12-24 months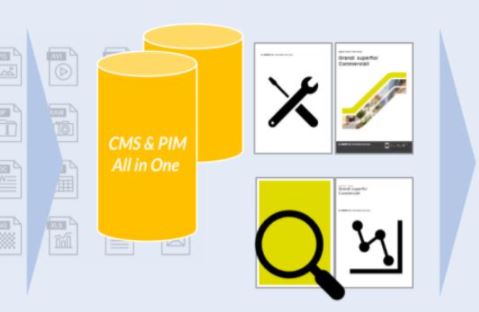 NUMERICAL EXAMPLE OF APPLICATION OF THE SYSTEM
In a Technical and / or Marketing office of 10 people between Senior and Junior, based on our experiences, about 20% of the time is dedicated to research and response to product information requests from other company offices. This is no small feat: if they were full-time it would be 2 out of 10 people, about 3400 hours / year to search and distribute information! With an "All in One" CMS & PIM, not only extraordinary advantages are obtained in terms of publishing agility in Marketing, but also a share from 50% to 80% (average value that varies according to the different realities and measurable a once the system is fully operational) of this workforce can be recovered for higher value added activities. The return on investment falls on average between 12 and 24 months, from the adoption of the "All in One" CMS & PIM system.
First step in the "Digital Transformation" process of the technical product documentation
Definition of document formats in use in the Company and creation of new "Document Family Line" styles (if necessary), with decomposition of existing documents and segmentation of basic information with their labeling and archiving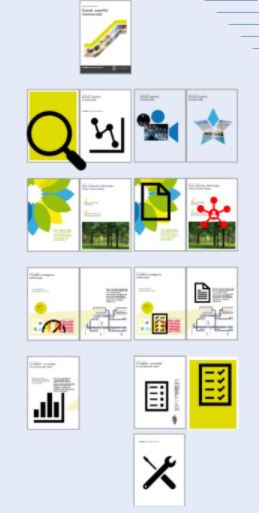 THE TYPICAL DOCUMENT FORMATS USED IN A COMPANY CONTAIN: PHRASES, DATA, PHOTOGRAPHS, TABLES, DIAGRAMS, ETC.
Company Profile (CPRO)
Company Presentation (CPRE)
Product Guide (PG)
Public Price List (PPL)
Application Brochures (AB)
References Data Sheet (RDS)
Case History (CH)
System Brochures (SB)
Technical Focus (TF)
Product Brochures (PB)
Product Data Sheet (PDS)
Product Flyer (PF)
Product Technical Bulletin (PTB)
Product IOM Manual (PIOM)
Product User Manual (PUM)
Product Service Manual (PSM)
Website (WEB)
PIM Portal (PIM)
Label Tree (XSD)
EACH DOCUMENT IS DESIGNED AND OPTIMIZED FOR DIFFERENT INTERLOCUTORS AND CONTENT OR AGGREGATION OF SPECIFIC CONTENT BY APPLICATION
For each Company document there are "users" of the document and "composers": those who generate it. The first activity is to clarify what types of documents are needed to cover the corporate audience, what parts they are made of and break down the aggregate information into basic information. This will allow on the one hand to build a tree of Company documentation (be it Technical and / or Commercial) and to standardize the language about the various objects (information, sentences, data, photographs, tables, diagrams, drawings, etc.) make up the various documents, storing everything in the Product Information Database of the CMS & PIM All in One.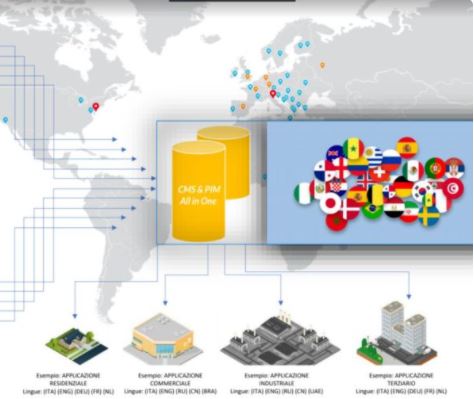 ADVANTAGES ARISING FROM THE USE OF A SINGLE CMS + PIM SYSTEM: WITH DIGITALIZED BASIC INFORMATION IT IS POSSIBLE TO CREATE SPECIALIZED DOCUMENTS FOR APPLICATION (ES. RESIDENTIAL, COMMERCIAL, TERTIARY AND INDUSTRIAL) AND FOR EXPORTING MARKET LANGUAGE QUICKLY AND EFFECTIVELY
It will no longer be necessary to adopt rigid schemes (or templates) in the generation of technical and commercial documentation: each GEOGRAPHIC MARKET and each APPLICATION SEGMENT will be able to have access to basic digitized information, in this way each document can have a high degree of accuracy because it is generated by a content base common to the entire organization. The various media will always be synchronized and will show the product in a correct and up-to-date way. For this it is necessary to have a Single Source of Truth solution that guarantees to have correct information in every situation. The resulting competitive advantage is enormous if we consider the speed with which the marketing areas will be able, in the most structured cases, to create their own documentation and content online, even in on-demand mode.
Third step in the "Digital Transformation" process of the technical product documentation
Evaluation of the economic advantages deriving from the new corporate solution adopted and study of the new areas of application of the model in order to concentrate resources increasingly on elements with added value and leaving data management to the digital part.
A METHOD FOR EVALUATING THE ECONOMIC ADVANTAGES FOR THE COMPANY EXAMPLE DIAGRAM: PAYBACK / V.A.N. (5 and 10 YEARS)
Each company, to evaluate the investment in a "CMS & PIM All in One" certainly needs to weigh on the one hand the advantages deriving from the digitization of the documentation and on the other hand, as is normally done for all investments, evaluate the return over time (PAYBACK) and the value created over a reasonable period of time (NPV: NET CURRENT VALUE) which in the present example we have evaluated at 5 and 10 years, being a medium-long term project. In this field, however, it should be noted that each reality has its own calculation models, which are influenced by many factors, including: the approaches to investments in technology, the amortization logic, the willingness to exploit any incentive mechanisms, such as the tax credit for process and product innovation activities, etc. Evaluating the return on investment in the adoption of a CMS, a PIM, a PLM or a management software is always a complex issue in which the differences between the budget and the final balance can have (for better or for worse) important variations. Aware of this complexity in carrying out an analysis, and without wanting to replace those in the Company who are responsible for calculating the economic convenience of investing in a "CMS & PIM" system, we found it useful to be able to express a simplified model for illustrative purposes that illustrates " with the numbers "what can be the Company economic advantages deriving from the choice of such a system. In the evaluation, we deliberately concentrated on saving in the costs of the Company personnel involved (directly or indirectly) in the process of generating, using information and publishing the contents, deliberately omitting in this calculation the possible positive returns (including economic, often indirect) in terms of :
improvement of the Company image;
increase in commercial opportunities deriving from technical and commercial documentation that is faster to produce, precise and synchronized between on-line and off-line;
more efficient use of translators and associated costs, etc;
all factors that further increase the convenience of adopting the system.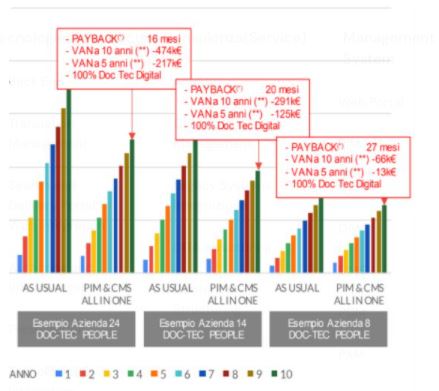 ASSUMPTIONS USED FOR ECONOMIC EVALUATIONS
The values ​​expressed in the diagram derive mainly from the assessments made by estimating the company personnel costs on a RAL (Gross Annual Salary) basis for companies of different sizes with different compositions of the staff panel involved in generating the documentation. The panel is generally composed of staff who (directly or indirectly) work to create and maintain product information which is then used for the creation of technical and commercial documents. The mix used for the estimates expressed in the diagram is the following:
Estimate for 37 DOC-TEC PEOPLE 1 CTO (Chief Technical Officer), 2 Senior R&D Employees, 20 Employees (including Junior R&D, Senior Designers, Junior Designers), 1 CMO (Chief Marketing Officer), 3 Product Managers, 2 Technical documentation personnel , 1 Training Officer, 4 Pre-Sales Employees and 3 Post-Sales Employees;
Estimate for 24 DOC-TEC PEOPLE 1 CTO (Chief Technical Officer), 1 Senior R&D Officer, 10 Employees (including Junior R&D, Senior Designers, Junior Designers), 1 CMO (Chief Marketing Officer), 2 Product Managers, 1 Technical Documentation Officer , 1 Training Officer, 4 Pre-Sales Employees and 3 Post-Sales Employees;
Estimate for 14 DOC-TEC PEOPLE Composition: 1 CTO (Chief Technical Officer), 5 Employees (including R&D, Senior Designers, Junior Designers), 1 CMO (Chief Marketing Officer), 1 Product Manager, 1 Technical Documentation Officer, 1 Employee; Training, 2 Pre-Sales and 2 Post-Sales Employees;
Estimate for 8 DOC-TEC PEOPLE Composition: 1 CTO (Chief Technical Officer), 3 Employees (including R&D, Senior Designers, Junior Designers), 1 Product Manager, 1 Technical Documentation Officer, 1 Training Officer, 2 Presales Employees and 2 Post Employees Sale.
For each of the four business cases, based on direct experience with hundreds of companies (small, medium and large) operating in the industry, trade and services sectors, and for each person / function, the % of time, on an annual basis, spent on searching and providing information (estimates that, for example, range on average from 8% in the case of a Junior Designer to 70% of a Technical Documentation Officer). These values ​​were multiplied by the number of people, thus obtaining the overall cost of researching and providing information with the traditional system. For the calculation of the savings deriving from the adoption of the "CMS & PIM All in One" system, an average reduction of 50% in the search and supply times of information was taken into account (although in many cases, when fully operational, even at 80%), thus calculating the following parameters: • (*) PAYBACK: understood as the minimum time (estimated in number of months from the introduction of the "CMS & PIM All in One" system) in which the costs of the new system equalize the costs of the old system. From the achievement of the PAYBACK time onwards, the Company starts saving and this saving can be quantified with another parameter (evaluated at 5 and 10 years) which is: • (**) NPV (NET CURRENT VALUE): understood as the cumulative economic savings obtainable with the new "CMS & PIM All in One" system compared to the old system, calculated 5 and 10 years after adoption. The values ​​expressed derive from internal estimates made with the utmost accuracy and the calculation method is available on request. Having said that, it is appropriate to consider that these estimates cannot be considered valid in all business cases, since as the methods of application, the type of industry and the depreciation techniques vary, the values ​​obtainable may also vary substantially, therefore for an evaluation more accurate and specific, it is recommended to do an Audit (which can normally be carried out in a week) and evaluate the specific case.
Beyond the "Digital Transformation" multiply the visibility of the product and the presence of the On-Line brand
Subsequently (but also in parallel for more structured realities) it is possible to extend the platform to the WEB and E-COMMERCE area, generating a complete digital integration between the 3 key company departments, TECHNICAL OFFICE, MARKETING and SALES.

It is clear that everything that constitutes product information for the document area is also a source for the product area of ​​the site. With a single system it is possible to have the real synchronization between On-Line and Off-Line with enormous advantages of consistency of information and speed of action of all areas involved. Everything is configured in a PIM Portal for access to information by "internal", "external but close" users (eg. Translation agencies) and web for the world of "external" that begins with the Company website the selection process.
E-COMMERCE & MARKETPLACE INTEGRATION

More and more people will meet the product created by the company for the first time by going through a marketplace, which is a very powerful "digital showcase", or they will find it through the site of some aggregator that talks about the product itself (together with others). The sentiment and opinions of users are perhaps even more important than the information produced by the company and must therefore be governed in the appropriate way, with an adequate platform. More and more companies are organizing a multi-channel presence through a plurality of e-commerce / portals / marketplaces, even simply by publishing list prices, thus obtaining first-rate digital visibility, without creating asynchrony with the policies in place on traditional sales channels.

What are you waiting for? Ask for a demo today!