FRATELLI COMUNELLO SPA
From shopping to tailor-made tailoring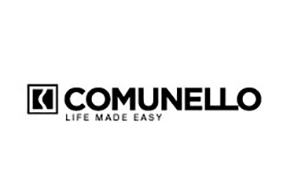 Comunello presents its product range all over the world and always wants to look its best in every situation. Catalog for France? Buy a red sheath dress. Important Spanish customer? Wear a tailored suit. Website in English? Buy a new dress for the occasion. And he says he never has anything to wear! The company suffers from compulsive shopping.
Too many crowds at the outlets of grueling translations. The size is really missing to quickly make the new product cards. With InDesign there is always a queue for the layout layout in the language. This is nice, shame … it really tightens on the life of the web version. And it starts again. Every occasion for Comunello is special and requires a different and personalized dress.
Together with EKR, Comunello's marketing forgets the frantic runs for shop windows and turns into an extraordinary tailor-made tailoring, able to respond to every need with the most appropriate outfit. The passage is certainly not comfortable, immediate or lacking in commitment, but its tailors understand the importance, look ahead and hold on.
Today, finally, the language translations dress fast any new model packaged by the company. Marketing no longer has to go crazy to recover product features and updated information: they are all organized and stored in a single database, like elegant rolls of precious fabrics, ready for custom cutting.
With EKR Comunello wears only original garments, to best meet the needs of the most varied markets.
Said from you
Marcello Lott
Graphic Designer di Fratelli Comunello Spa
We have been working with EKR for almost two years.
This is the moment when we collect the results! The process was a little slow because I mostly followed it myself. It was a nice blender! EKR is a very square system: a good for data management, a bad thing – at the beginning – for someone used to working with InDesign. As we have understood, it is a system that must be shared instead.
We are learning to manage data faster, share information and delegate parts to different departments. The first one we are involving is the technical department, thanks to a colleague who also works with the PIM. We are starting to manage the part of the technical data together, to insert them and check them with spreadsheets, faster.
We were forced to review the organization of the data, and it was a good opportunity! The system imposes its logic, so we were forced to fix aspects that might have remained unmanaged. Surely the speed of data entry and the ease of translation management are also appreciated advantages.
Would you recommend it to another graphic designer? Yes, but only if you have an open mind! In the beginning I too, used to working with InDesign, kept asking myself, but why do I have to wear so many wheels? A little at a time, we realize the convenience of having the data in a single database. For me it is a very positive aspect. The change of mentality for me was not a problem, on the contrary, it was a precious opportunity to be exploited.
Today with EKR we produce documents in 6 different languages. The first time we have composed some product sheets in Italian – after entering the translations – and that we had all the sheets in a day's language, ready, already in pdf, finish … eh … it was a great experience!
The process of digitization and centralization of data in the company is an essential step: I can say that otherwise, for what has been my experience, the other roads can become dangerous. They only lead to errors and reworking, especially in companies where there are so many products and huge amounts of data to manage.
HI I'M COMUNELLO!
I DEAL WITH:
Components and automations for gates, doors and interiors
IN DETAIL:
Fratelli Comunello was founded in 1965 as a manufacturer of components for sliding gates and soon gained a leading position in the market for innovation and quality. More than fifty years of precision in the realization of perfect elements, in step with the evolution of technologies and in line with the highest safety standards. The company considers automation a natural passage to access the new logics of living: a liberating gesture that always opens up new possibilities.
WITH EKR WE CREATE:
4 catalogs produced in 6 language variants
product sheets
instruction manuals and spare parts
website: product area – work in progress
marketing office
technical office
PEOPLE WORKING ON IT:
1 marketing department resource
1 technical office resource
WHY EKR?
flexibility and guarantee of a single centralized database
always correct and updated information on the various media
speed of language translation management
more organized and precise workflows
because a customized marketing suits the company better
Industry:
Scope of activity: international market
Products:
GATE DIVISION

GATE AUTOMATION

FRAME DIVISION

FRAME AUTOMATION