Docutec
From freestyle to synchronized swimming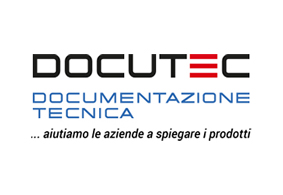 Docutec accurately compiles a huge amount of technical manuals: every day it passes through a big pool of information, swimming in freestyle. Product data and regulatory indications follow each other in relay, with slow passages. The company tries to standardize the turns of its publications with some InDesign scripts, but it's not enough.
Waves of variations and customization of the same document do not keep them steady. Must slow strokes when heavy water from translations makes too much barrier. When instead it accelerates there is the risk of hitting the floating lanes of manual errors. Continuous updates make one breathless and delay arrival at the finish line.
With EKR, the technical publication of Docutec becomes an extraordinary synchronized swimming choreography. All contents emerge from the waters of a single database to move simultaneously in the same direction. Texts and values ​​combine in perfect harmony to model complex and spectacular figures, able to amaze the demanding public of its customers.
The automatic layout is a tight and precise teamwork: each scheme is coded in detail to be repeated in any other exhibition. Updates are performed quickly, gracefully and simultaneously. Docutec with EKR manages its information with always coordinated and flexible movements: there are no limits to the possibilities of new exciting combinations.
Said from you
Domenico Marinelli
Owner of Docutec Srl
EKR means a margin of error of almost zero, in addition to saving time.
Compared to the past, the technical documentation today has a very different value.
Machinery is increasingly complex, not only do I have to learn to use it well, but if I don't write the right phrase someone gets hurt or ends up in court.
We make highly personalized technical maintenance and usage documents translated into at least 8 languages, but we also get up to 20. We used InDesign with very powerful scripts to try to automate a piece of work.
With EKR we manage a single master from which to derive everything, even with different graphic templates, is a very flexible tool.
We have learned to produce better content to be able to catalog well, optimize and recover data.
Writing better is a great advantage: the information must never be ambiguous but always clearly understandable.
We are a technical base, in Docutec we "force" the program and put it to the test: EKR is an open system, potentially without limits. For us it is a tool that allows you to do practically anything you want.
It is certainly complex: an entry level user if not placed in the correct manner takes fear, if maybe he worked in Word then … I think it is difficult to propose: we must not be scared and be predisposed to change.
I can say that we were born together with EKR: ours is a very family approach!
HI I'M DOCUTEC!
I DEAL WITH:
technical documentation in outsourcing
IN DETAIL:
Docutec is a communications and consultancy company specialized in the technical documentation sector, with a team of experts in the field of technical and commercial publishing. On the market, technical documentation is a distinctive element of quality and competitiveness, as a part of the machine. Docutec studies, develops and realizes all the documents needed to make customers' products known and to describe their structure, functionality and use in a simple and safe way.
WITH EKR WE CREATE:
from 600 to 800 technical manuals a year
in different versions
in 20 language variants
manual office
technical office
PEOPLE WORKING ON IT:
WHY EKR?
centralized repository of product information
flexibility in the production of custom technical manuals
easy and immediate data update
a single master of graphic layout
optimized translation management
Industry:
Solutions for the drafting, creation and management of technical manuals
Products:
Technical documentation.

Technical manual design.

Translations.

Support and Advice.

Software and Training.

Print.