VEGA SRL
From coal to renewable energy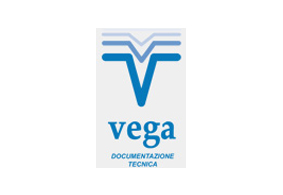 Vega handles an impressive amount of technical data every day like a powerful coal-fired power plant. Its teams of expert editors accurately assemble hundreds of user and maintenance manuals. They lift brave heavy palates of information with Word and InDesign, but the fatigue of such a cumbersome work begins to be felt.
Language translations entrusted to outsiders burn and wear out fast, raising a high smoke on the horizon. When a manual needs to be corrected, Vega must start again. Update the values ​​patiently, on each individual document. It collects buckets and buckets of changes and transports them back to the translator.
Together with EKR the company converts its data organization into a renewable efficiency system. Like sunlight, every single translation is reused to infinity, without waste, and loses the shadows of ambiguity. Product technical specifications are dynamic blades that revolve around a single semantic center: the same information can finally produce thousands of different documents.
The wind of an orderly and centralized data hierarchy wipes out any unnecessary duplication and eliminates the pollution of continuous copy and paste. The powerful tides of the upgrades are conveyed in a flexible system that transforms them into clean energy, to be used with great savings on any media. With EKR, Vega transforms its content management into a renewable energy plant.
Said from you
Giovanni Pollini
Redattore Tecnico Grafico di Vega Srl
All the documents we made passed through InDesign or Word. When there was an update to be done, it was obviously necessary to make the change to Italian, then the documents of the other languages ​​were opened one by one: a rather cumbersome job!
Same thing in case of transversal updates between several machines: first you had to change all the documents one at a time. Then a document was prepared with all the changes to send them in translation. But in the worst case, if there were too many corrections, the InDesign file was sent to the translator in its entirety to make it up again! And with us the updates are really frequent, indeed almost daily.
EKR helped us to disambiguate the translations: our customers have definitively established a glossary of precise terms in the various languages. Many words were previously translated differently even though they were always the same. It was a problem and with EKR we were able to fix it! There are no more meaningless situations, like a sentence that ends with a dot and the same without the end point with two different translations!
The biggest advantage of EKR for us was definitely the savings in translations;
having an internal database we don't necessarily have to rely on outsiders. The automatic layout in language is another important aspect, an expensive operation if entrusted to third-party translators. Now we are autonomous and it is a real saving!
Even the change management is much more immediate and probably even more correct, it gains the quality of the corrections because you have the certainty that it goes on all the necessary documents, always in the same way.
Finally, even the data organization itself has gained, through the hierarchy and the pallets: everything is much more ordered and immediate. I use those data to make manuals, but they are available to everyone in the company, they can benefit all departments, drawing on information that is always correct and up to date.
HI I'M VEGA!
I DEAL WITH:
technical documentation in outsourcing
IN DETAIL:
Vega offers complete and professional publishing services for all documentary needs. It combines traditional solutions, such as desktop publishing, with innovative solutions to publish information simultaneously, in any format and on any channel. The Vega proposal originates from the consolidated experience of decades of work: a path of continuous growth that today allows us to fully understand the needs of customers, tailoring services perfectly tailored to their real needs.
WITH EKR WE CREATE:
technical manuals of use and maintenance of machinery
in the different language variants
PEOPLE WORKING ON IT:
2 technical office resources
WHY EKR?
modularization of contents
greater consistency and quality of information in different media
approach to manuals in a much more organic and efficient way
reduction of translation costs
ecological reuse of contents, without polluting information!
Industry:
Solutions for technical communication
Products:
Technical file and CE marking

Technical documentation and manuals

Legal and regulatory compliance

Spare parts catalogs

Management and integration of technical content

Mechanical design and structural analysis

Selection and organization of tests in laboratories and notified bodies

Translations and management of translations of technical documentation